IR 25key remote led controller
Category: IR controller Publish Time: 2014-05-27 14:02
This controller is adopt the IR remote control,hot key function are very clear. It can realize the mode of 7 color running horse,single color running horse,mixed color running horse,7 color fade,jump,flash,etc. Brightness and speed are adjustable,withe the lost power memory function.this controller is mainly used to controlled all kinds of 9 channels LED strips and led models.
Technical Parameters:
Working temperature:-20-60°C

Input voltage:DC12V

Output:9 circuit

Connection mode:Common anode

controller size:L70×W45×H30mm

Remote controller size:L84×W51×H5mm

Net weight:73g
Interface Specification:


Typical Application:
Application Circuit:
Direction for use :
1.Connected the led strip to the controller's pinhole joint,make sure that the led strips common V+ are connected to the controller's common V+ channel.(can change the wiring way according to different led strip's requirement).
2.Please connected the controller to the DC12V power supply,and used the remote control can turn ON/OFF the controller ,and can choose the changing models you required.
3.To make sure the remote control are work in a good condition, Pleasure installed the IR receiver in a location without any obstacles.
4.The models are as below: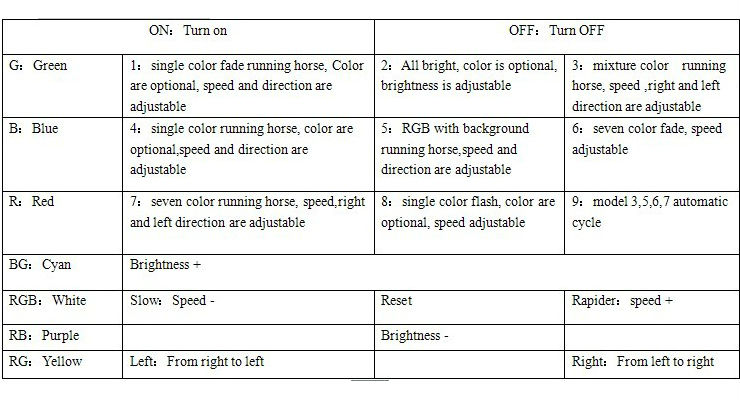 Cautions:
1.This products Input voltage is DC12V-24V,other input voltage are not allowed.
2.Lead wire should be connected correctly,according to the wire color and the connecting diagram offers.
3.Overload are prohibited.