Infrared CT controller
Category: IR controller Publish Time: 2014-05-27 13:51
This controller is adopt the most mature infrared remote control technology, mainly used to controlled Color temperature led strips. User can choose different color temperature effect,can adjust the light's brightness and turn on/off the light,etc.Besides , this controller is with lost power memory function,when powered the controller, it will be in the same color temperature as last time before power off. Most of the function are very clear on the hot key,and its easy to be wiring,very simple to used.
Technical Parameters:
Controller:
Working temperature:-20-60°C
Input voltage:DC 12-24V
Connection mode:Common anode
Output current:<6A
Static power consumption:<1W
Controller size:L61 Χ W35 Χ H22 mm
Packing size:L90ΧW60ΧH40mm
Net weight:24g
Gross weight:57g
Remote control:
Working temperature:-20-60°C
power supply mode:button battery
supply voltage:3V
Products Dimiension:
Controller Size: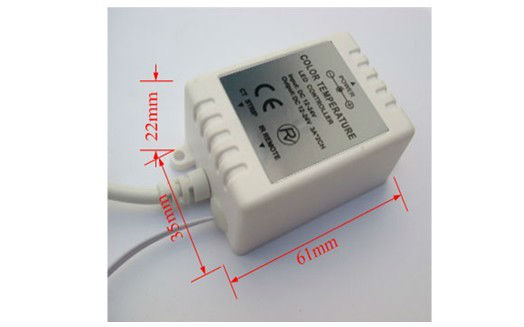 Romote Controller Size: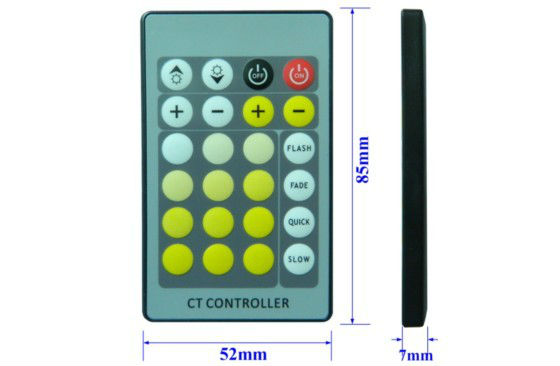 Connection description:


The Load output interface:

Direction for use :
1.Connect the load cord first, and then connect the power cord; Before power on please ensure no short circuit between the cables;
2.Used the 24 key infrared remote control, the key function are as follows: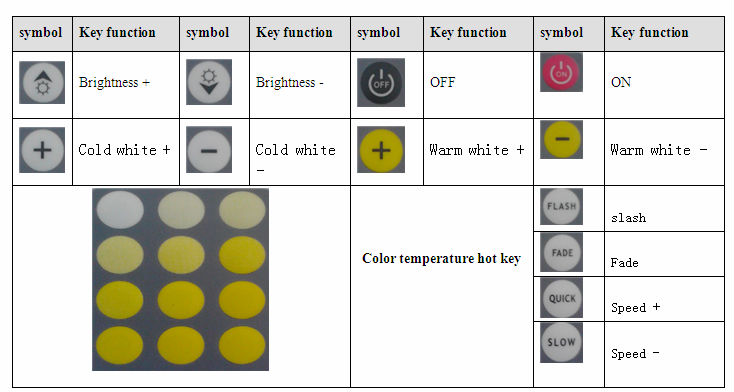 Cautions:
1.This products Input voltage is DC12V,other input voltage are not allowed.
2.Lead wire should be connected correctly,according to the wire color and the connecting diagram offers.
3.Overload are prohibited.