Touch RGB Controller
Category: RF controller Publish Time: 2014-05-27 14:36
This FR touch remote control RGB controller adopted the advanced touch technology, Mainly used to control all kinds of constant volage led products, such as LED source, flexible strip, wall washer, glass curtain wall light and so on. User can choose different changing mode, adjust the speed and brightness,turn on/off by the remote control according to their preference .This controller is with power off memory function, next time to used it, will start with the model it save. Its built-in 7 kinds of static color, jump, fade, strobe,flow, automatic cycle and others effect. Agile wiring, easy connection and simple to used is the representative advantages of this controller.
Technical Parameters:
| | |
| --- | --- |
| Working temperature | -20-60°C |
| Supply voltage | DC12V~24V |
| 0utput | 3 channels |
| Connecting mode | common anode |
| External dimension | L81×W64×H24mm |
| Remote control size | L135×W80×H55mm |
| Net weight | 185g |
| Gross weight | 205g |
| Static power consumption | <1W |
| Output current | <6A(each channel) |
| Output power | 12V<216W;24V<432W; |
External Dimension:
(controller size)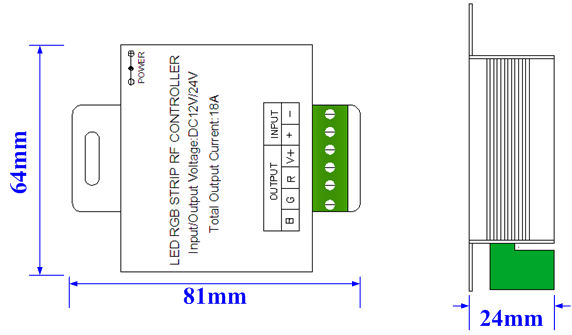 (Remote control size)
Connection description:
Power input interface (port1):

Adopt conventional power transposon as a DC power input interface
Power input interface (port2):
Adopt the plug seat with screw.
Load output interface: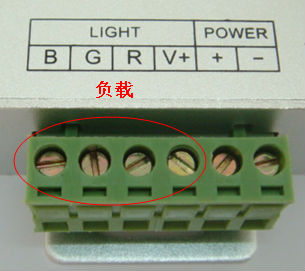 Adopt the plug seat with screw.
Direction for use
1,Use the RF remote control, no need to make the remote direct to the controller,and
the RF remote can controlled it across obstacles.
2,In the open area remote control distance is over 30 meters;
3,Each controller and the remote are sticked with an unique ID on it,each controller
can be study two remote control's ID,this means that one controlled can be controlled by
two remote at the same time.Besides,this controller can make it to be controlled by the
unique remote , or make one remote to controlled many controller as well.
4,the controller is full touch remote with color right on it , user can change the color
simply by touch the color ring.

The

dynamic model

s are as below:
| | | | | | |
| --- | --- | --- | --- | --- | --- |
| NO | mode | NO | mode | NO | mode |
| 1 | Three-color gradual changing | 7 | Yellow strobe-flash | 13 | Blue cross-fade |
| 2 | Seven-color jumpy changing | 8 | Cyan strobe-flash | 14 | Yellow cross-fade |
| 3 | Seven-color gradual changing | 9 | Purple strobe-flash | 15 | Cyan cross-fade |
| 4 | Red strobe-flash | 10 | White strobe-flash | 16 | Purple cross-fade |
| 5 | Green strobe-flash | 11 | Red cross-fade | 17 | White cross-fade |
| 6 | Blue strobe-flash | 12 | Green cross-fade | | |
Remote control Function instruction: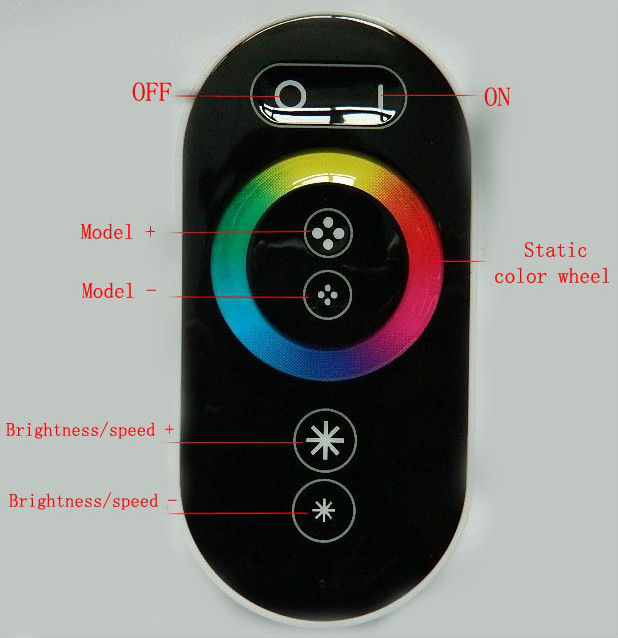 Typical Application: