IR 24key Magic controller
Category: Magic Controller Publish Time: 2014-05-27 16:01
This 24 keys magic controller is mainly used to controlled the magic strips with the UCS1903 IC. Its with the power OFF memory function, and the controlled IC number are can be setting, max can controlled 1000pcs IC.its with 231 kinds of changing mode for user's optional,can make the customer to experience various colorful changing models.Besides, its with the advantage of low price,easy to wire,simple to used.
Main feature:
1.Small size,light.
2.There are 24keys one the remote control,function mode are clear on the hot key,simple to be used.
3.Easy to wiring,and the remote control is versatile.
Technical Parameters:
Working temperature:-20-60°C
Input voltage:DC 12-24V
Output :SPI Signal
Static power consumption:<1W
Controller size:L61 Χ W35 Χ H22 mm
Packing size:L90ΧW60ΧH40mm
Net weight:24g
Gross weight:57g
Remote : IR frequency 38K,remote distance more than 10 meters.
External dimension: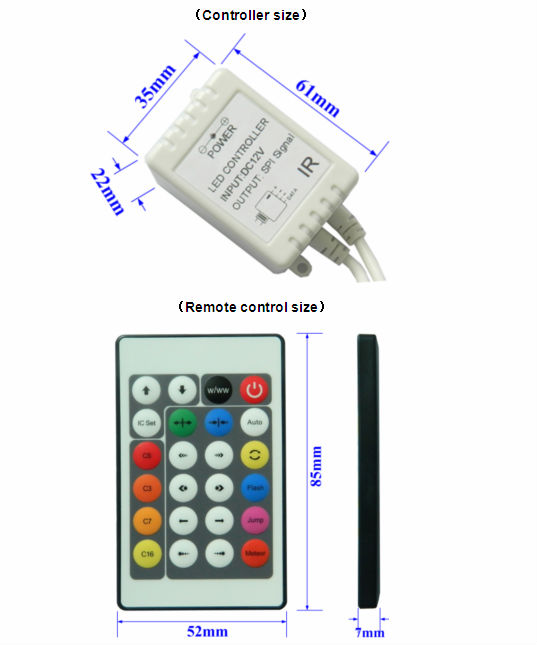 Connection description: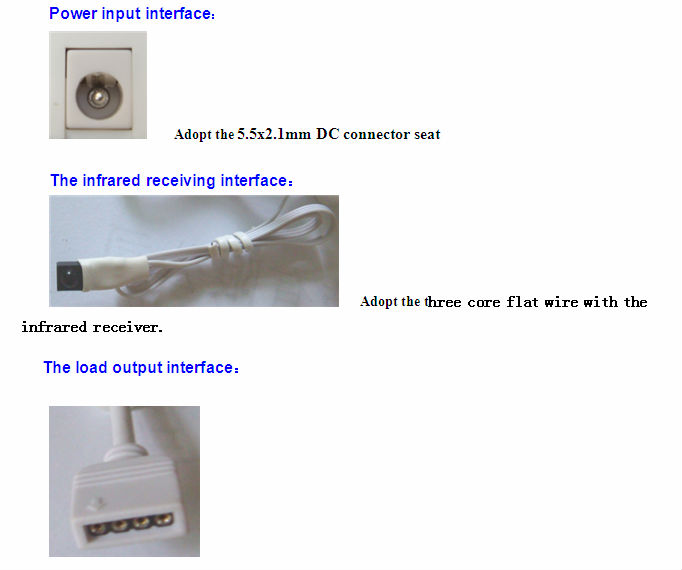 Adopt the 4 pins connector, the channel near the arrow is the common + ,the second and the third channel is for
the common -, and the forth channel is the signal channels.
Direction for use:
1 Connect the load cord first, and then connect the power cord; Before power on please ensure no
short circuit between the cables;
2 Used the 24 key infrared remote control, the key function are as follows:
Typical Applications: